Transcript: Peripheral Nerve Stimulator Migraine Treatment Allows Return to Full Activities
Michael: My name is Michael Parker. I've had migraines for about five years. We didn't know how it started. Just one day I came with migraine and it never went away. The only relief I was getting was sleeping, so I was sleeping quite often. When I had seizures the migraines intensified a little bit, but we thought the seizures were causing the headaches. Five years ago when I had surgery to secure the seizures, the headaches never went away.
We didn't know what to do. My neurologist tried every medicine in the book, and this is a great procedure to try. It's helped. My first trial stimulator was two years ago back in December, I believe. I'm not sure on the date, but that's when it started. Dr. Reed put it in and we figured out he put the trial leads a little higher than my headaches were, so that was easy fix. It was great. It worked perfectly.
When we did the permanent stimulator he put it a little bit lower and it's worked ever since. Lately, I haven't had to change programs at all. I've kept it on one program ever since because it's helped me. I get the daily headaches from a weather front coming in, but a Tylenol Sinus knocks that away, and then I'm pain free. I haven't had to change. Back then, when I first started I had to change a bunch because we were trying to get it set. The past six months I haven't had to change.
I started playing golf about two and a half years ago. Started with I went to a BJ Superstore, got a used set. I found a golf instructor that I used to use back then, way back then when he was somewhere else. He's part of Hank Haney Golf at WestRidge Golf Course in McKinney. He and I have been working together for a long time. If I get a good strike on it I can get it about 50 to 75 yards. I love it. It's something I can do because it's not physical where basketball it's contact, football is contact. I love those sports and I stay in them by basketball I officiate basketball in the winter. In the summer, when it's cooled off I play golf. With the stimulator I can do stuff. Back then with the headache, I'd go out for just one activity, then I would have to home because my headache was really bad. Go home, take something, and go to sleep because that was my relief.
Now I can do a day, a half day, go to the mall, have lunch, do something with friends and family. I believe in God and it took a lot of prayer because God has something working. You find inside to make it work. It takes heart. You try. If it doesn't work, it doesn't work, but it if works, knock on wood it's great. You have your life back because migraines can take it away. Migraines is a disease, so it's hard to find the right medicine, the right something, maybe a daily medication of Tylenol and that's what helped is this stimulator. I don't know how to thank Dr. Reed and his staff for giving me part of my life back. Back when I had seizures and migraines together they asked me, "What would you rather have? Migraines or the seizures?" I said migraines because seizures I'm more independent. I'm not having a seizure every three days. Migraines I can deal with it because I have a high pain tolerance. Some people don't, but I do. Now it's a lot better.
They've also created a couple Facebook groups. Being part of them, some of them have eight leads and two batteries in them and that still doesn't help. You have to find something that works. It's great to hear how people are doing. If you need help, a question that Dr. Reed can't answer right away there's always someone that you could call or text and say, "Okay, have you had this problem? What do I do?" That's like the support group you need. They're like family. He's a doctor that takes care of his patients. His staff, the programmers from St. Jude, we like to call the stim "mom" because they control the stim. They can fix anything. If it can't be fixed, they'll get you in and into surgery. Dr. Reed will figure out what's going on.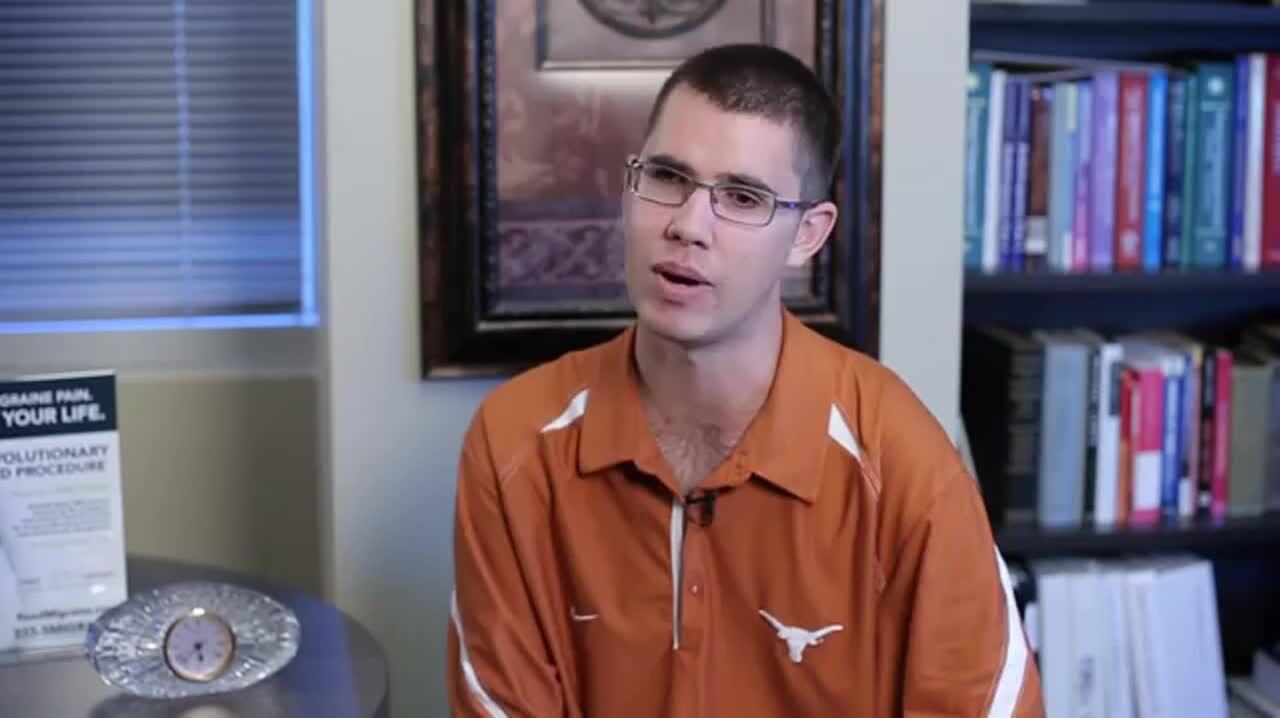 FREE WEBINAR
Learn more about the Reed migraine procedure treatment options, and find out if the Reed Procedure is right for you.