What is the Omega Procedure?
The Omega Procedure is a surgical procedure that treats patients with chronic migraines. Developed by Kenneth Reed, M.D. for the treatment of chronic headaches, the Omega procedure uses neurostimulation, involving both occipital and supraorbital nerve stimulation, and it is successfully documented in more than 80 percent of patients suffering from prolonged or severe migraine headaches.
The Omega Procedure is another name for the Reed Procedure ®, a registered and patented trademark procedure which is exclusively performed by Reed Migraine Centers' trained and authorized physicians. For the most experienced physician care with the Omega Procedure, patients should contact Reed Migraine Centers directly to learn more about the difference. The physicians at Reed Migraine Centers founded and invited the Omega Procedure.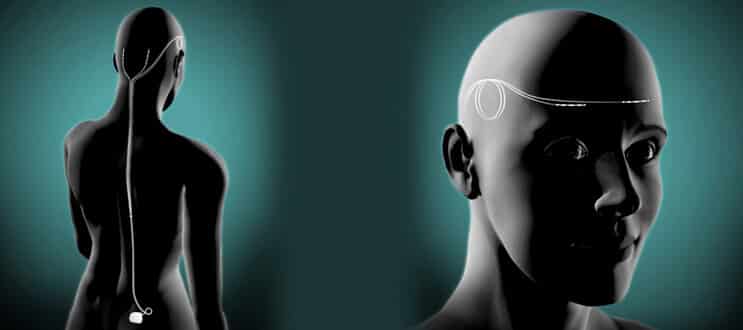 The Omega Procedure Trial Stimulator
Prior to migraine surgery, patients are fitted with a non-invasive test to ensure that the Omega Migraine Procedure will work before having the permanent stimulator implanted at Reed Migraine Centers. This is an unprecedented first step, which sets Reed Migraine Centers apart from other migraine relief options. The trial lasts for three to seven days.
The Omega Procedure is not currently FDA approved, but spinal cord stimulation (SCS) uses the exact same technology and was approved by the FDA in 1989 and is now a standard treatment option for patients with chronic pain in their back and/or limbs who have not found pain relief from other treatments. Additionally, neurostimulation for headaches was granted CE Mark approval for use in Europe in September of 2011.
FREE WEBINAR
Learn more about the Reed migraine procedure treatment options, and find out if the Reed Procedure is right for you.